Dear friend -
Are you looking for a new CHALLENGE to change your routine, "shake things up" and kick it up a notch?
Do you want to bust your current plateau, get MORE done in LESS time and take your training to the next level?
Are you just looking for a new reason to get EXCITED about kettlebells?
If you've answered yes to any of these questions, then you simply owe it to yourself to read this entire website.
My name is Forest Vance.  I'm a former pro athlete, Russian kettlebell expert, gym owner, boot camp instructor and personal trainer based out of Sacramento, CA … and what I have to show you today is so incredibly exciting that I had to sit down and write you this entire letter.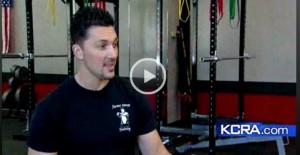 See, we're using a kettlebell training system at my small Sacramento, CA gym that's getting our clients some *shocking* results … and I've FINALLY decided to "spill the beans" and share this complete system with the world.  The specific way this training method is put together is, quite frankly, like nothing you've ever seen before, and I just can't WAIT to tell you about it …
But more on that in just a bit.
MY Kettlebell Story
I want to tell you my own personal story, because I think it's important for you to know – and I want to explain to you how the system I'm going to share with you today came to be …
I'm currently a personal trainer and boot camp instructor based out of Sacramento, CA. I hold a Master's Degree in Human Movement, in addition to Personal Training Certifications through the American College of Sports Medicine and National Academy of Sports Medicine. I'm also a Russian Kettlebell Challenge Certified Instructor.
My athletic achievements include playing football at the college level and a stint in the NFL. I've trained thousands of clients both in person and online, and have a track record of getting people phenomenal results in short amounts of time.
But I haven't always been in top shape and living the fitness lifestyle.  No – not long ago, I went through a lot of the same struggles you probably have, too …
Back in my football days, I was in top shape. After a great college career and a 'cup of coffee' in the NFL, it was time to move on. The transition was pretty smooth – except from a personal fitness standpoint. Long story short, I ended up at about 310 pounds:

I remember feeling so freakin' fat – so out of shape, and different from my former athletic self – it was just flat-out depressing.
It was the picture above, in fact, that ultimately triggered my transformation. I started on an intense workout and diet plan, and lost 64 pounds over the next 7 months: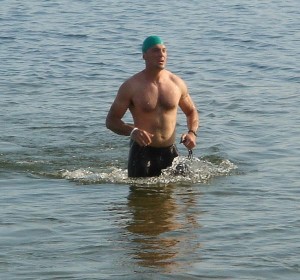 HOW I Did It
Now, when I first started my weight loss journey, my #1 goal was weight loss.  So I knew I needed to design my workouts around that goal.  But, the main focus of my workouts up to that point in time had been performance.  That is, I wasn't just training for weight loss or to hit a certain number of inches gone … every time I hit the gym, it was to put a few more pounds on the squat bar, or add a couple reps to the bench press.
This PERFORMANCE – based concept … setting goals like doing a few more reps of push ups or squats in a certain amount of time, etc. … is what really accelerated my results, and is what helped me actually make progress and eventually reach my weight loss goal – but in a fun and enjoyable way.
This performance – based idea has become a big part of the workouts I design now … and has since been melded with the kettlebell …
How I Discovered the Kettlebell
I had this insane workout partner at one of the "big box" gyms I worked at when I first got into the personal training world.  He was an ex-marine, and we would do these ridiculously hard workouts every day, and always compete with each other.
One day, he brought his kettlebell with him to the gym, and we mixed it into one of these performance-based workouts I am speaking of here.  I was instantly hooked.
It was just about the coolest thing ever.  The shape of the weight, how you could do things with it that you couldn't do well with other training implements, just the flat-out uniqueness …
From there, I went on to do multiple kettlebell certifications with the RKC, incorporate them into all of my own workouts and those of my clients, and eventually open my own kettlebell gym in Sacramento, CA.
Now I've gone on to help thousands of people – both online and off – reach their ultimate fitness goals.  And a big way I've done that is using kettlebells … even more specifically, kettlebell challenge workouts.
The Magical Combo of Kettlebells and Performance
Where the real magic lies in this is how we combine this concept of performance-based workouts and kettlebells.  They are the perfect tool to incorporate into these style of workouts for an extra challenge.  EVEN BETTER, these workouts take 20 minutes or less to do and can be done with just a single kettlebell and your own body weight.
This is the method I have created and used with my clients that has helped them achieve such amazing success.  Here is a sample of what I'm talking about:
Kettlebell Challenge Workout #4
300 Snatch 'n' Swing Kettlebell Challenge
KB Snatches
Hand-to-Hand KB Swings
One Hand KB Swings
Two Hand KB Swings
Start with 50 Snatches, any combination you want. Then switch to 50 Hand-to-Hand Swings. When you are finished do 100 One Hand Swings and end with 100 Two Hand Swings. This challenge should be done as fast as possible. This will be tough so try to improve every time you try it!
Prescribed weight for this one – 24k for guys, 16k for the ladies.
This workout looks so simple on paper, but once you try it, you'll be a believer.  It's super high intensity, you can hit all of your major muscle groups at once in a very short amount of time, and with just one simple piece of equipment!
Here are a few of the benefits you can expect when you try out this full system for yourself:
Slash your body fat
Get a lean, athletic looking build
Bump up your current weights
"Tighten up"
Get STRONG – WITHOUT lots of expensive equipment
Do it QUICK – with a workout that can fit into your crazy schedule
Seamlessly integrate kettlebells and body weight, and improve the efficiency and effectiveness of your KB routine
These workouts have been such a hit, with my clients online and off, over the last couple of years, that I knew I just couldn't keep them to myself any longer.
So, I've decided to put everything I have learned about kettlebell challenge workouts into an awesome new program …
Now introducing:
The Kettlebell Challenge Workouts 2.0 System
Here's what you'll get when you grab your copy today:
Component 1 – The Kettlebell Challenge Workouts 2.0 Main Manual (29.95 value)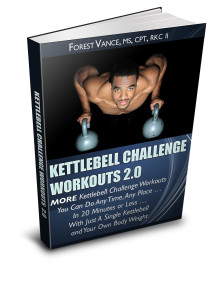 In this high-quality, fluff-free, no-B.S. program, you'll be taken by the hand as I walk you through:
BRAND NEW kettlebell challenge workouts that you can do any time, any place, with just a single kettlebell and your own body weight. Get a smoker of a workout FAST when you learn the simple secrets I uncover in this program.
Workouts that give you maximum "bang for your buck" – high intensity sessions that make every second count! Get into elite condition and burn TONS of body fat at the same time.
Common mistakes people make with their challenge workout programming – and how to fix them.  Keep your training targeted, while you still have fun with these unique training techniques.
A BONUS "Hybrid Kettlebell Strength" plan to go along with your challenge workouts.  I outline a complete kettlebell routines to make sure all your bases are covered, and that you have everything you need to reach your goals as fast as humanly possilble.
Q&A – ALL of your common kettlebell challenge training questions, answered.  Want to know how to work around an old injury?  The best way to do cardio without running?  How to fit in your workouts around a busy schedule?  It's all here!!
Component 2 – The Kettlebell Challenge Workouts 2.0 Video Series ($29.95 value)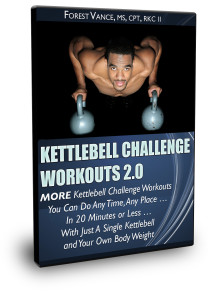 In this video series, I take you by the hand and walk you through, step-by-step, EXACTLY how to do and really get the most out of every single kettlebell challenge workout.  Plus, these videos are formatted to watch online, can be downloaded to your computer – even viewed directly on your mobile device!
Component 3 – Hybrid Kettlebell Strength and Conditioning Manual ($29.95 value)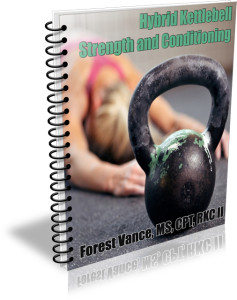 To ENSURE that all your bases are covered, I've also included the perfect companion program to Kettlebell Challenge Workouts 2.0.  Follow this routine to get strong, lean, and BETTER at your KB challenge workouts:
Hybrid Kettlebell Strength – HOW the program is set up, and WHY it works so great.  You'll get my personal background with the workout style – and learn from the mistakes I've made, so you can get your training on the fast track to success.
A six week KB/BW training program you can use to get strong AND lean, at the same time - A rarely-used, "undulating periodization" method that I've used with amazing success in my training programs for years, but I've never before revealed and laid out in detail.
Exercise Library – MAJOR form points that most people miss.  Don't be left in the dark as to how to perform the exercises with proper technique. You'll learn EXACTLY how to perform every exercise in the program, the RIGHT way, the very first time.
BONUS kettlebell workouts - I've gone the extra mile and hooked you up with some bonus sample workouts from some of my other top-selling programs – like the Kettlebell Challenge Workouts system, The 10×10 Kettlebell Solution, and more.  Add these in to the mix for added variety and enjoyment.
Q&A – ALL of your common kettlebell challenge training questions, answered.  Want to know how to straight up get STRONGER as fast as possible?  How to fit in your workouts around a busy schedule?  It's all here!!
Ready to grab your copy?
Check out what some of my happy kettlebell training clients have to say:
Erik dropped 60 pounds and 16% body fat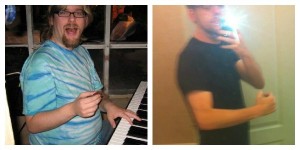 "Growing up I never thought I'd get into shape. My defeatist attitude combined with sheer laziness made me pack on the pounds over the years. With my 30th birthday approaching I decided to make a change – and I'm so glad that I did!
I changed my diet and lost a bit of weight and then I discovered Forest's workouts. I've been training with him for a year and I've lost 60 pounds, dropped my body fat percentage from 30% to 14% and have changed my life forever … what I love about working out is how it has impacted my everyday life. Not only is my fitness level drastically here, I am so energetic, vibrant, STRONG and happy"
Erik D, Sacramento, CA
Andrew lost 33 pounds and 10.5% body fat in 5 months
Mark is hooked on KB's!!
And a few more comments from my online kettlebell clients/blog readers/email subcribers/etc.
"I'm 58 years old and completed P90X 2 years ago and Insanity last year, but both times I could not stay motivated to work that long and hard on a regular basis. This spring I did Insanity again but the results were disappointing. Then I discovered Kettlebells! Between the short intense workouts and the way my body is responding, I'm hooked! Starting on my 4th week and loving your straightforward instruction and the variety of your workouts."

- Britt

My "gym" is outdoors wherever I happen to be parked(I'm a trucker). My ultimate goal is to get down to my maximum weight when I was in the army(184lbs). That was when i was in my early 20′s. when I started working out, I weighed 278. Today, at 52, I'm down to 231.

- Jim

Version 1.0 changed my life – With kettlebells and clean eating, my waist is down almost ten inches in the past year.

- Dustin

I'm a Type 2 diabetic, and can proudly say that I manage this condition 100% drug-free, thanks in large part to my kettlebell workouts!

- Steve

Since using Kettlebell training I lost 65 pounds and went from a wheel chair to walking with a walker to walking with a cane.

- Robert

I am 75 years old and a fan of kettlebell workout. It is short but efficient and leaves me vigorous and energetic. I know I am in better shape than most of my friends my age or younger. I am stronger and my balance is better than they. Recently I had a college reunion, and my old friends were all amazed at how I look.

- Yugo

Working with Kettlebells has changed my thinking regarding exercises in general. Not only is it a great cardio workout but also my strength overall has really improved, having a stronger core, losing weight and being able to work out in a short time are all pluses for me. Having the proper form to follow and develop into a regular routine has made me a believer in Kettle Bells. Thank you for the routines, tips and suggestions to add to my training.

- Gabriel
Our 60 Day 100% Money Back Guarantee
Do this: read just the first section and go through the first workout. If you feel like you haven't ALREADY gotten your money's worth, then please contact me and I will refund every penny of your purchase, no questions asked.
Better still, take a full 60 days to do these workouts and benefit from them. If for any reason at all you're unsatisfied, contact me still and I will refund every penny of your purchase.
Thanks, and take care
- Forest Vance Master of Science, Human Movement Level 2 Certified Russian Kettlebell Instructor
P.S. I'm using a little-known training system at my small Sacramento, CA kettlebell gym that's getting my clients some astounding results.  The backbone of this system is the kettlebell challenge workout.
P.P.S. I'm so confident you'll love this program, you can get all your money back within the first sixty days if you're unsatisfied for any reason, no questions asked.
P.P.P.S. If you're looking to lose fat, get a time-efficient workout, and do it by harnessing the power of kettlebells and body weight training, grab your copy of Kettlebell Challenge Workouts today!
Common Questions
Common question #1: 'Is this program in ebook, app, or video format?'
This program is in ebook and video format.  It is 100% digitally delivered, so you'll get access to it right away – no waiting for shipping.  Plus, the videos can be viewed online, downloaded to your computer, or even watched on your mobile device.  Yay technology!

Common question #2: 'I'm a fitness professional myself.  Is this program for me?'
Absolutely!  I use these workouts in my kettlebell boot camp classes on a regular basis and my campers love them.  They're the perfect new training technique to keep your clients excited about their workouts, telling all their friends and coming back for more!!
Common question #3: 'I can find this info for free elsewhere on the internet'
To be honest, I'm not so sure 
  A lot of the training tips and tricks that are found in this guide you'd actually have a hard time finding elsewhere for free. And even if you could, the question is, do you want to spend dozens or potentially hundreds of hours to pull it all together and filter out the good stuff from the bad? Or do you just want me to do all the hard work for you and give you an answer to your problem right now?

NOTE: The 'Kettlebell Challenge Workouts' program is a downloadable product. After you order, you will get INSTANT ACCESS to download the e-book(s), bonus reports and videos onto your computer. No hard products will be shipped.
ClickBank is the retailer of this product. CLICKBANK® is a registered trademark of Click Sales, Inc., a Delaware corporation located at 917 S. Lusk Street, Suite 200, Boise Idaho, 83706, USA and used by permission. ClickBank's role as retailer does not constitute an endorsement, approval or review of this product or any claim, statement or opinion used in promotion of this product.
Note: Due to recent statements from the FTC, it is required that we identify what a "typical" result is. The truth: most people never do anything with the products they buy, so most of the time, their typical results are zero. The biggest factor is you. I've lost over 64 pounds lbs and I've worked with clients who have lost 100 pounds and more using my training system. They were willing to put in the work and effort.